G-Sat 15/17 HD Channels List with Frequency Symbol Rates @ 93.5° East. On this page, we will provide you the details of all HD channels on G-Sat 15/17 @ 93.5E. We have listed the channels TP wise. Most of the channels are not FTA and scrambled. You can unlock these channels with Cccam cline which can be purchased from the Cccam server holders.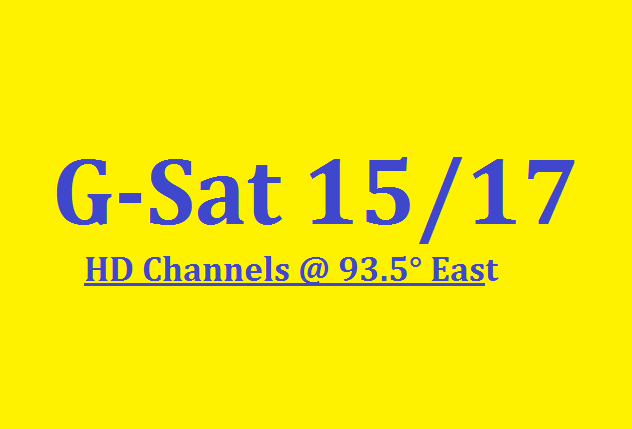 You may also like:
Express-AT2 HD Channels List
Below is the chart of all HD channels available on G-Sat 15/17. The channels are listed with TPs, Frequency and symbol rate.  We will update the list when the new channels introduced.
Frequency

SR
Channel Name
4085 V
30000
ITV Network
P Tunes HD
10970 V
32000
Sun Direct
Zee Cinemalu HD
Gemini TV HD
Sony Six HD
Sun TV HD
KTV HD
National Geographic HD India
Mazhavil Manorama HD
VH1 India HD
Sun Music HD
Star Sports 1 HD
Comedy Central India HD
Zee CafГ HD
Star Plus HD India
Animal Planet India HD
Sony Ten 1 HD
Zee Cinema Asia HD
11010 V
32000
Sun Direct
HBO HD
&TV HD
HD Info Channel
Discovery Channel India HD
Star Movies HD
Sony Le Plex HD
Star World Premiere HD
MNX HD
MN+ HD
TLC India HD
Zee TV India HD
&Pictures HD
ETV HD
Times Now HD
Zee Telugu HD
MTV Beats HD
11630 H
32000
Sun Direct
Zee Studio HD
&Prive HD
Star Sports 2 HD
Star Sports Select 1 HD
Sony Pix HD
Star Maa HD
Udaya TV HD
Star Bharat HD
Colors HD
Romedy Now HD
Colors Infinity HD
Gemini Music HD
Travel XP HD
Star Sports Select 2 HD
Star Movies Select HD
Cartoon Network India HD
Colors Bangla HD
Sony Max HD
11630 V
30000
DD Free Dish
DD National HD
11670 H
32000
Sun Direct
Sony Rox HD
Sony ESPN HD
Gemini Movies HD
SET India HD
AXN India HD
FYI TV18 HD
Asianet HD
Star World HD India
Surya TV HD
Movies Now HD
History TV18 HD
Colors Kannada HD
Sony BBC Earth HD
Star Vijay TV HD
Sony Ten 2 HD
Discovery Jeet HD
Disney Channel India HD
Rishtey Cineplex HD
These are the latest frequencies of HD channels. Write in comments for further inquiries for specific channels.