Zong Student Offer Super Student Bundle package code. Super student bundle subscribers can make unlimited Zong to Zong calls, and fastest 4G internet for next 2 hours. Zong super student package available at a very affordable price. The bundle activation is very simple, just dial a string code to activate. The offer is available 24 hours a day.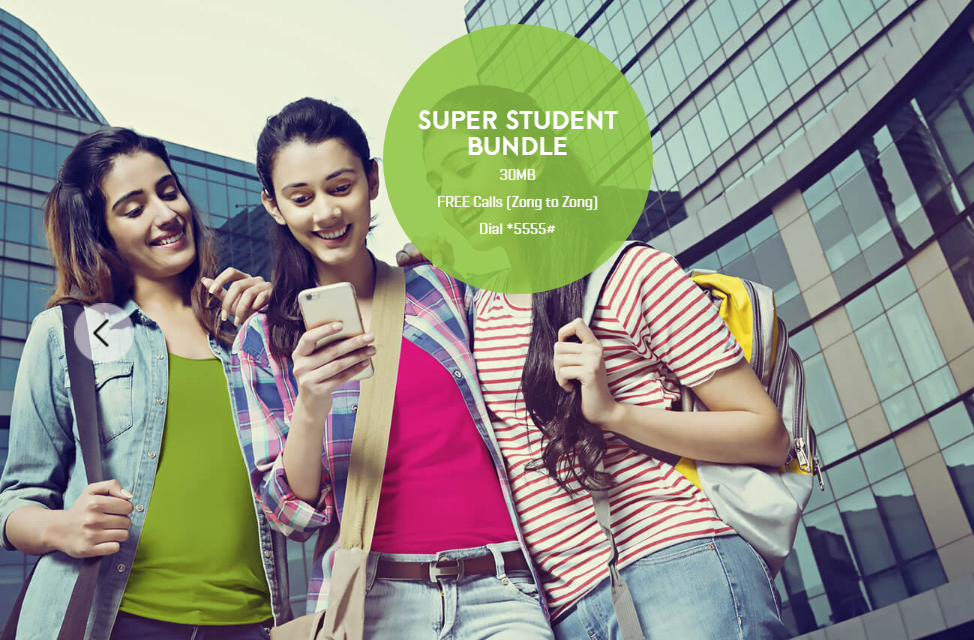 You may also like: Latest Zong Call Packages & Offers
Zong Student Offer Details
Zong student offer gives you unlimited Zong minutes for next two hours. It will also give you 30 MBs 4G internet data. The price of the offer is only 5 rupees plus tax. The package is valid for 2 hours from the time of activation.
Price: Rs. 5 + tax
unlimited Zong minutes
30 MBs 4G
Validity: 2 Hours
Activation code: *5555#
Online Activation Link
How to Activate Zong Student Offer
To activate Zong student package simply dial *5555# from your prepaid Zong SIM and you will receive activation confirmation message in few seconds. You can activate the offer at any time of the day. The offer will not auto subscribe and you have to subscribe it again. Multiple subscriptions are allowed and if you subscribe it again within the validity time, you will lose your existing minutes & MBs.
Useful Information
A limited time offer and subject to change or terminated at any time by Zong.
Call setup charges of Rs. 0.15 will apply for every call.
The bundle will not auto resubscribe again upon expiry.
The package is valid for 120 minutes from the time of activation.
You can subscribe Zong Student offer as many time as you want in a day.
The offer is for Zong prepaid customers only.
Normal charges will apply after the consumption of package resources.
Free MBs can be used with 2G, 3G or 4G network
Sales Tax of 19.5%  will be applicable on All internet bundles.
Call to Zong Helpline 310 for any additional inquiries.
Dial *222# to check your balance, service charges of Rs. 0.22 will apply.
Dial *102# to check the remaining resources of your package.
Your SIM is your digital identity, only use biometric verified SIM by PTA.