Telenor Djuice Din Bhar Offer Djuice Daily Call Package. Telenor Djuice brings Din Bhar offer on daily basis for its valued customers. Telenor Djuice is a prepaid service by Telenor Pakistan and it offers awesome call, the internet and SMS packages on the daily, weekly and monthly basis. Some other popular Telenor Djuice daily call offers are Telenor Djuice daily hybrid bundle, Djuice prime time offer, and Djuice Team offer.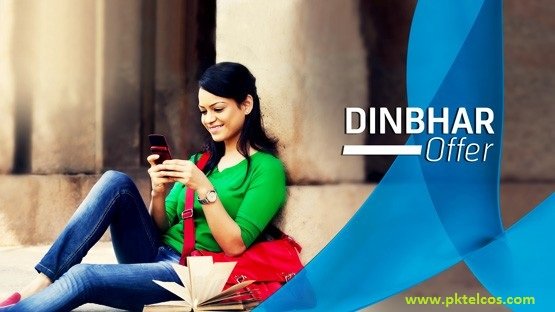 Telenor Djuice Din Bhar Offer Details
Telenor Djuice Din Bhar offer is one of the most popular daily call package. It will not only provide you daily free minutes but also gives you free MBs. You can enjoy daily unlimited calls and 20 MBs internet to stay connected with your loved ones. The offer is available from 12 am to 7 pm daily. The price of the offer is only rupees 9.5 including all taxes. Dial *5*727# to subscribe Djuice Din Bhar offer.
Unlimited minutes from Telenor to Telenor
20 MBs 4G internet
Timings: 12 am to 7 pm
Dial *5*727#
Useful Information
Din Bhar offer can not be activated multiple time in a day.
You can subscribe all other Djuice offers along with this offer.
The offer will expire T 7 pm on the date of activation.
It is limited time offer and Telenor Pakistan reserves the rights to withdraw it at any time.
Telenor Pakistan has the right to change offer price, timings and other conditions at any time.
You will be charged Rs. 0.12 on every call as call setup charges.
Dial *222# to check remaining minutes, the charges are only 20 paisas.
Dial *999# to check remaining MBs, the charges are only 20 paisas.
Dial *111# to check remaining SMS, charged are only 20 paisas.
Dial *444# to check your balance, the charges of the services is only 24 paisas.
It is your responsibility to use biometric verified SIM to avoid any security concerns.
Dial Telenor helpline 345 for any further inquiries.