Famous Punjabi Proverbs with English Translation & meaning. Punjabi proverbs are also known as Punjabi sayings or Punjabi Akhan. Most popular Punjabi proverbs are elaborated in Roman English and English in this article. The Punjabi language has a rich collection of Punjabi idioms. The list is driven by a huge collection of Punjabi proverbs and I hope your knowledge of Punjabi provers will improve a great deal after reading these sayings.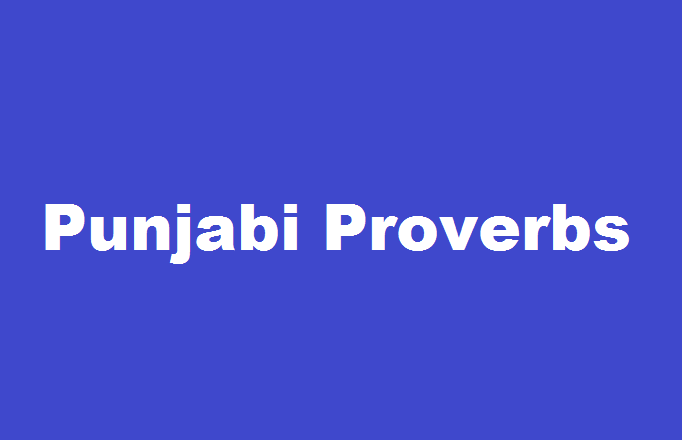 You may also like: Famous Urdu Proverbs with English Meanings
Punjabi Proverbs with English Translation
Punjabi Proverbs
English Meaning

Suno Sab Di Karo Apni.

Listen to everyone but do what you consider right.

Aakar Phoon Tay Fittay Munh

Nobody welcomes an arrogant pick

Nain Mila K Kadi Chain Nahi Milda

Fall in love and embrace restlessness

Ranjha Sabh Da Sanjha

It's the same God everyone looks up to

Bhuk Na Mangay Lazatan Ishq Na Puchay Zaat

Hunger asks not for taste, love cares not about the cast

Mann Harami Te Hujjtan Dher

When the heart is evil, excuses are many

Jaiday Hath Doi, Bukha Maray Soi

The one who holds the spoon, dies of hunger

Sajjan Uh Jerah Munh Tay Sach Aakhe

A friend is one who speaks truth to your face.

Gaddi Layna Assan Ae Per Sambhaal Karna Aokha Ae.

it is easy to buy a car but is difficult to maintain it.

Gal Lakh dee Karni Kakh di

Action speaks louder than words.

Gal Peyaa Dhool Wajanaa Paynda Ae

One has to fulfill the commitment which one has promised to carry out.

Ghar Da Jogi Jogra Bahar Da Jogi Sidh

A learned

person

is honored except in their own house.

Tureya Te

Appareya

You will reach the distance once you start.

Udeek Nalon Kahal Changi

It's better to do it yourself rather than waiting for someone else.

Prayie

Aas Aye Na Rass

Expectations lead to disappointments.

Aap Buray Taan Jug Bura, Aap Bhalay Taan Jug Bhala

Be good and people will be good to you, Be bad and expect the same.

Kothi Wala Roye, Chhappar Wala Soye.

The rich are restless, while the poor sleep peacefully.

Baat Badli, Sakh Badli.

Change your world and lose your respect.

Tu Vi Rani Main Vi Rani, Kon Bharay Ga Pani.

Where everybody wants VIP treatment, nothing gets done.

Dadhe Da Hath Chalay, Marhay Di Zaban.

The powerful use of their hand, the week their tongue.

Jehri Mauj Chhaju Day Chobaray, Na Oh Balakh Na Bukharay

East or west, home is the best

Changi Hue Tay Apni, Marhi WaheGuru Di.

I worked hard if it's good, God's will when it's bad.

Sochi Peya Tay Banda Geya.

If you think too much about something, you can't get it done.

Pallay Nai Dhela, Kardi Mela Mela.

Got no money but want to go shopping.

Rann Nu Tay Ann Nu

Nindna

Nai Chahi Da.

Wife and food, one should not speak ill of these.

Jag De Da lakh,

Suttay

Da Kakh

It only the active one make something out of this world.

Neonh

 Na Lagda Zori Da

You can't make yourself fall in love.

Changi Matt Chaho Tan Budday Nu Puchhan Jao.

Need a Good Piece of advice, consult an old person.

Har Sufi Saafi Nai Hunda

Careful, not every Sufi is genuine.

Jay Sukh Chahven 

Jeen

Da Khullay Khambeen Udh.

Life begins when you are absolutely free.

Ishaq Mjazi Te Tilkan Bazi

Love is a risky game.

Annay Kuttay Hirnaa Day Shikari

Incompetent person can't do a tough job.

Jaam di Runn Tay Billi Day Kann.

Wealth without use, no wealth
If you know any other Punjabi proverb, write in comments. We will include it in the list.