Make Your Android Phone or PC Torrent TV with ACE Player. There are thousands of TV channels worldwide, but they are not available everywhere. The large population of the world keeps watching the channels shown on the local cable, whether they are good or bad.
Only if we talk about sports, every day around the world different sports events took place such as baseball, basketball, cycling, golf, ice hockey, rugby etc. If you want to see any match of any game directly by the Internet, its best way is the Ace Stream Player. With this player, you can watch many other television channels through the Internet. If you have a good speed of internet, high-definition channels can also be seen with Ace Stream.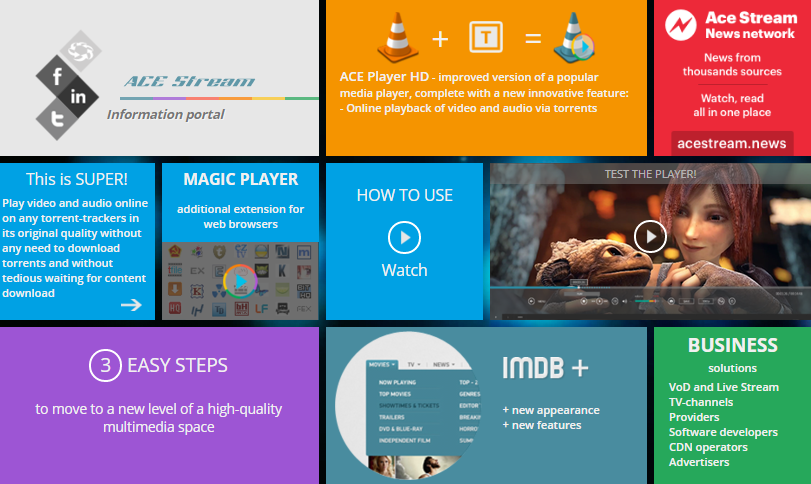 Stream Channels with Ace Player
Since nowadays, the Internet has good speed everywhere and Ace Player works on the P2P system, so its broadcast is clean and impartial. Actually, the Acestream Torrent TV works on the torrent style, through which a video or audio is actually reaching through streaming as a torrent. Movies on torrents can also be watched through this player. This software is available free of cost for Linux and Android as well. AcePlayer uses the VLC media player to work, so if the VLC media player is better to install VLC player.
You must have an Ace Stream link to view a channel on the Ace stream. You can find links to your favorite channel on the Internet very easily.
How to Open A Link in Ace Stream Player
To open a link in the Ace Streaming Player, clicking the Media menu of the player, click the "Open Network Stream.
After clicking the link in the Network Protocol section, click on the Play button below. If your channel is activated then it starts running straight after load.

This software mostly installed its plugins in your browser so that anywhere you click on the existing Ace stream link. It will automatically open the program not to paste the link again. If you want to watch free movies and sports events in HD quality, there is no better program than Ace Streaming. Ace Player tutorial for streaming channels is described in the video below.